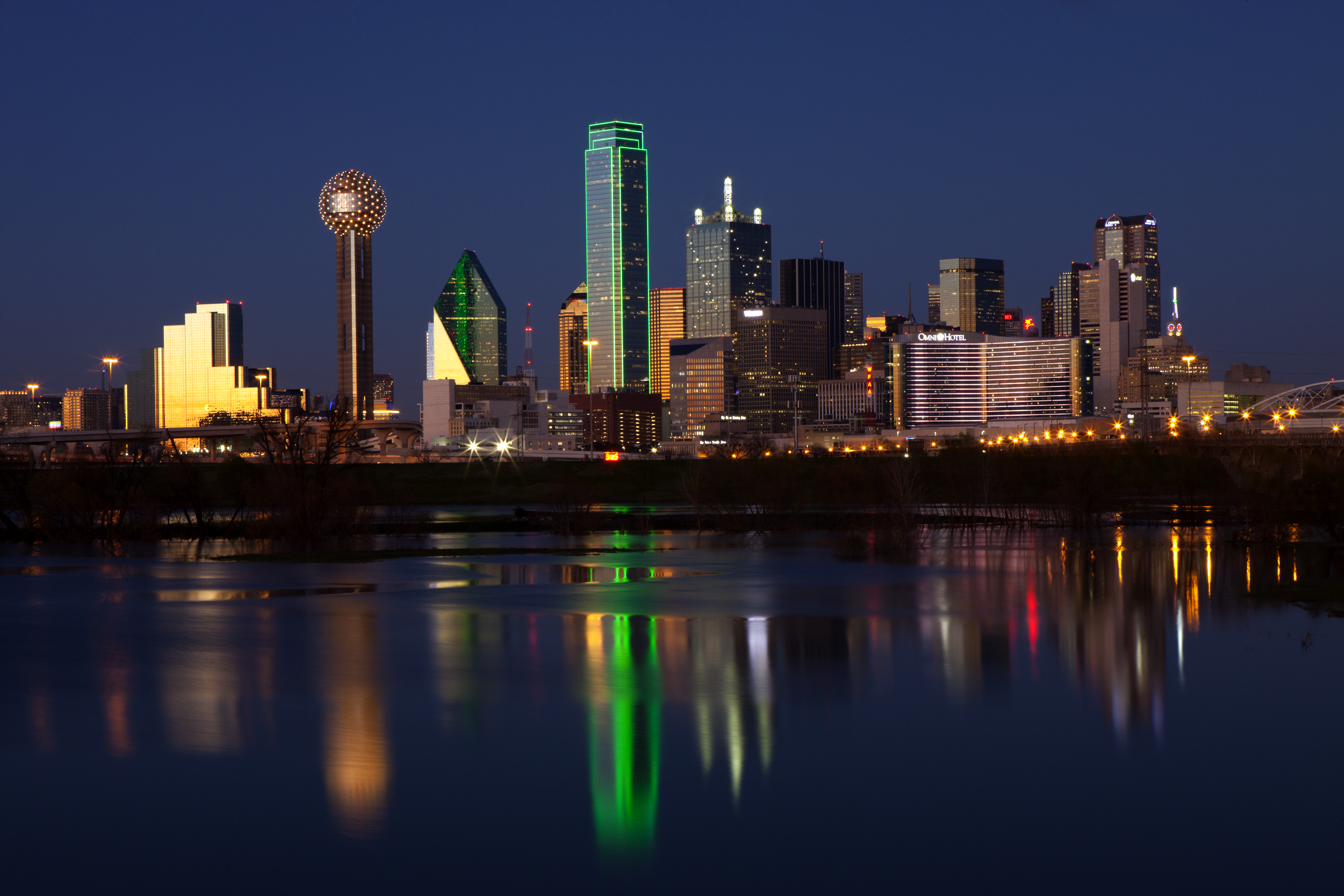 You're sitting in your office having a cup of coffee and reading the newspaper. Great news all around. Your city is a top-five metropolitan area in the country and growing. Job growth is phenomenal. Shiny new buildings everywhere.
North Texas 2022? Perhaps, but also Detroit 1950.
Living in North Texas today, it's easy to take for granted that we lead the nation in job growth and in-migration. Since 2010, the U.S. Census Bureau estimates the population of the Dallas-Fort Worth metro area has grown by 23.1%—the most of any metropolitan area in the country for the same period.
It's expected that DFW will overtake Chicago as the nation's third-largest metro area by the 2030s.
Much of this growth is attributed to the uptick of companies and workers relocating from other states. Our region has a lot of positive benefits that attract businesses and people – we have all heard them many times: low regulatory climate, no state income taxes, affordable housing, and a diverse economy.
North Texas' lower cost of living has attracted people from higher-cost areas like California. Many high-profile businesses, including Caterpillar, Toyota, McKesson, PGA, and Charles Schwab, have recently relocated their headquarters, added manufacturing, and distribution centers or expanded their DFW operations. This influx of companies has not only brought more people but it's also brought more jobs. As of January 2022, the unemployment rate in Dallas-Fort Worth was just 3.6 percent, with 237,100 jobs added from January 2021 to January 2022.
But, as we've learned from other cities in the last century, this can change—just look at Detroit. In 1950, Detroit was counted as one of the five largest major cities in the U.S. and was a powerhouse in the car manufacturing industry. But it's been in a steady population decline ever since, according to the Citizens Research Council of Michigan.
For North Texas—and Dallas specifically—to maintain its competitive advantage, we must focus not only on protecting our lead in growth but pushing forward with more initiatives that will continue to attract new economic opportunities and make Dallas an even better place to live. Here is where we can start.
Increase Housing
The housing affordability issue is incredibly simple. It is high-school economics simple. Less housing equals more expensive housing, and more housing equals less expensive housing. Cities across the country that have made the development process more difficult (i.e. most of California) have the highest housing costs. Full stop. No government program will change this dynamic.
If a developer wants to build housing in the City of Dallas (single-family or multifamily), the city should roll out the red carpet, not bog the developer down with layers of red tape. With current migration patterns, North Texas will continue to receive more people from around the country. The City of Dallas building department must decide how many of those will call the city of Dallas home.
Focus on Alternative Transportation
North Texas has miles and miles of freeways – some are 16 lanes wide. North Texas has miles and miles of light rail – the most in the entire United States. More money on highways and light rail is not the answer. DFW must focus on alternative transportation. The answer is an active transportation network that connects DART stations, streetcars, protected bike lanes, and bike trails to give residents an automobile alternative.
Dallas has always been inhospitable to cycling, to put it mildly. Bicycling magazine has routinely ranked Dallas as the Worst City in America for cycling. It does not have to be this way. The anti-cycling culture in Dallas can change over time as we have seen across the country. It starts with prioritizing cycling infrastructure and follows with planning and budgeting.
Minneapolis is a perfect example. Despite a cold-weather climate, Minneapolis decided to go all-in on cycling infrastructure. Starting from essentially a dead-stop around 2000, the city is now routinely ranked as one of the top three cycling-friendly cities in the country every year, with a relatively high percentage of residents commuting to work.
An organization that I am involved with – The LOOP Dallas – is working to connect existing bike lanes into one 50-mile connected loop around the Dallas area. Organizations like BikeDFW, the Dallas Off-Road Bicycle Association (DORBA), and a host of riding clubs are doing their part to promote a more bike-friendly Dallas.
We don't have to be Copenhagen or Amsterdam, but we could certainly catch Minneapolis. It just takes resolve, planning, funds, and political leadership.
Increase walkability
Dallas has historically prioritized cars over people in design and planning and it shows. According to Smart Growth America's Pedestrian Danger Index (PDI), from 2010-2019, out of the 100 largest metro areas in the U.S, the DFW Metroplex ranked the 31st most dangerous metro area for people walking. We must change this. In 2019, DFW had 124 pedestrian fatalities. That number increased to 132 in 2021. The design of a street impacts the speed of automobiles far more than the posted speed limit. Dallas must take every opportunity to calm traffic and make streets more hospitable for pedestrians.
Eliminating one-way streets is a great start. We now have several successful examples of converting one-way streets to two-way across the city, yet it takes years to make this happen. Dallas must streamline the process of taking a neighborhood consensus to full implementation in a reasonable timeframe.
Road diets are another great idea. A classic road diet typically involves converting an existing four-lane, undivided roadway segment to a three-lane segment of two through lanes and a center, two-way left-turn lane. They enhance safety, mobility, and access for all road users and create a complete street environment to accommodate a variety of transportation modes.
The best example in Dallas is the Jefferson Boulevard road diet championed by Councilmember Chad West. By taking a stretch of road from three lanes in each direction to two lanes, traffic accidents dropped 82%. Another great example is the Lower Greenville road diet that significantly increased development and walkability in the area.
The City of Dallas should create a road diet commission to explore every opportunity to eliminate redundant roads or decrease road widths to make neighborhoods more pedestrian-friendly. Neighborhood residents should have priority over commuters passing through.
More Green Space
Dallas is not blessed with natural amenities such as mountains or an ocean, so we must play to our strengths and focus on parks and trails. Dallas will never have these natural amenities, but there is no reason Dallas cannot lead the country in parks per person for large urban cities.
City parks and urban green spaces enjoy a long list of benefits. They can increase community connection and engagement, improve air quality and encourage a more active lifestyle for residents. They can also lead to economic development and increased property values for both residential and commercial real estate.
Dallas now has two great examples of transformative park initiatives with Klyde Warren Park and Parks for Downtown Dallas (PfDD). Klyde Warren Park has been a true game-changer for Dallas. It has stitched together Downtown and Uptown and now enjoys over one million visitors per year. It is a perfect example of how an idea can become a transformative project in a short period of time with the right leadership and resources.
Just as impressive as Klyde Warren Park is the effort to create four urban parks that have transformed Downtown Dallas through the work of PfDD. In just over a decade – an incredibly short period of time in the history of a city – a big idea was turned into reality under the PfDD's guidance.
Both initiatives were public-private partnerships that leveraged private money with public funds. Just like the new Southern Gateway Park, this public-private partnership (PPP) model should be followed as we continue to build out green space in Dallas.
Organizations such as Trust for Public Land and Texas Trees Foundation are doing great work, as well as the Dallas Park and Recreation Department and the Dallas Department of Transportation. Dallas has the organizational structure in place to make Dallas greener and more accessible.
Take Care of the Basics
As Maslow taught us, one cannot focus on higher-level pursuits if their most basic physiological needs are not met. It is the same with a city. If we don't get the basics right (public safety, permitting, housing, potholes, etc.), we will never be able to get the next-level items such as active transportation and additional green space.
The City of Dallas permitting process is a perfect example of the basics that we must get right. If a developer or homeowner has followed the local zoning rules and wants to invest money in Dallas, get that person a permit as fast as possible. If a builder has followed the rules of zoning and wants to build more housing in Dallas, get that person a permit as fast as possible. An ineffective permitting office is an unforced error that must be resolved. The permitting process should be simple, timely, intuitive, and cost a reasonable amount of money.
This is by no means an exhaustive list of areas for improvement, but it is a place to start. While no one can take away the built-in advantages of Dallas, such as its central location, many other economic advantages can be lost if we are not steadfast in our pursuit of excellence.